I dare you not to fall in love at first sight with this vibrant & elegant Black, Yellow and Gray non-traditional themed baby shower designed by the amazing Temmy Odupitan of PinkWhistle Events. It can only be described as sheer perfection. It is everything an expecting mother could ask for! And if welcoming a little one isn't on your agenda this year, just think how pretty this would be for a birthday, garden party, graduation party, lunch event, bridal shower or even a wedding (Seeing as Black is now all the rage!).
Having an outdoor baby shower, helped keep the focus vibrant. The aim was to create something visually stunning that would literally pop! Sunflower arrangements were the perfect flowers to display Yellows and Blacks. The Black Chiavari Chairs and Black Diamante Charger Plates helped create the contrast against the vibrant Yellows.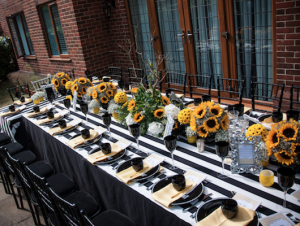 This was then emphasised using Striped Black and White Table Linens. Completing the look of the table was the use of Vintage Sliver Photo Frames which held various poems; Black and Silver crockery, Black and yellow vases and silver tea lights holders. Nothing was left uncovered in creating the perfect table setting.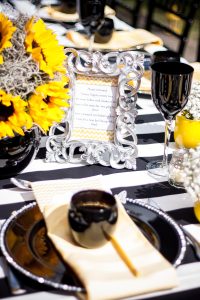 A sweet table was set up following the colour scheme with Yellow and Silver stripped Linen. A yellow, white and Grey chevron cake was made which also had poems printed on four corners; this included the Yoruba (A Nigerian local dialet) oriki (A traditional poem) for twins and its English translation and pictures of Giraffes made from icing (Giraffes were the unusual animals chosen for the day). Complimenting this were cupcakes depicting onesis, giraffe, babies and many more. Yellow and black sweets littered the table for those with sweet tooth together with chevron sweet bags provided to guests.
As expected of a baby shower, the day was designed with the aim of 4F's (Family, Friends, Food & Fun). A personalised shower games booklet was designed for each guest along with personalised pencils to use on the day. This flowed in with the Chevron themed invitation card sent out to guests. To ensure the guests had the most fun, a DJ ensured the background music was subtle enough to encourage a relaxing atmosphere and fun enough to ensure everyone was having a good time. Of course no shower is complete without good food. To ensure maximum participation, guests were served seated to ensure an un-interrupted day of fun.
When Elizabeth saw her baby shower she was shell-shocked at the beauty and the detail of the décor and flower arrangements. The outburst of the sun, delicious food, beautiful flowers and lovely family and friends made this day magical! To top it off, the weather co-operated for once and the Sun shone ALL day. Nothing beats that feeling. Good Food, Good Friends, Family and most of all FUN.
Suppliers
Decor
Flower arrangements by Moyses Stevens at Cascades of Babylon Brentwood http://www.cascadefloristbrentwood.co.uk/
The Vintage Table Frames, Vases, tea lights and sweet table jars and cake stand supplied by Pinkwhistle Events https://www.facebook.com/PinkwhistleEvents
Black & Silver Chiavari Chairs, Chargers Plates & Tables supplied by iAM Wedding Hire. www.iamweddinghire.com https://www.facebook.com/iamweddingchairhire
Black and White Striped Table linen from Ikea
Personalised Invitation card, Shower Booklet and Personalised Pencils designed and printed by a friend.
Sweet Table
Chevron cake designed by Panari Cakes http://www.panari.co.uk/
Cupcakes by Leri Le 'Blanc https://www.facebook.com/LeriLeBlancPatisserie
Sweet Table designed by Pinkwhistle Events https://www.facebook.com/PinkwhistleEvents
Photography
Photographs taken by Ayo Arije-Togunloju https://www.facebook.com/ayo.arije.7