Check out 7 striking reception décor trends using Chiavari chairs that will enhance the glory of your wedding reception titivating the ambience. When such chairs are embroidered with vibrant accents and punctuations, their magnificence cannot be expressed in words.
1. Elegant Vintage: Shows such as Downton Abbey and the popularity of the Duchess of Cambridge has helped fuel the return to elegance. Use soft lighting, gold, elegant frames and blush toned flowers to bring out the glamour, romance and sophistication in your décor. Gold Chiavari chairs add the perfect blend of elegance, simplicity and modishness.
2. Outdoor Weddings: In true British fashion, no conversation is ever complete without discussing the weather. Most British brides would relish the opportunity to have an outdoor wedding. Take advantage of nature in your décor creating a dreamy afternoon or evening feel in the garden.
3. Marsala Inspired Décor: The red brown colour of Marsala makes for an elegant, organic statement when used on its own or as a strong accent to other natural colours. Marsala colour goes well with the collection of burlap, and gold items. Pantone has chosen this burgundy like colour to be the colour of 2015. You will see this colour incorporated more in weddings this year. Customise your décor with colourful fabric and cushions to leave a heavy impact on your guests.
4. All Neutral Décor: We have noticed a trend of more brides and planners asking for white and ice chairs. This can be incorporated in summer by doing an all-neutral themed wedding to create a fairy-tale wedding even in the middle of summer. Use uplighters to throw a bit of colour to the day.
5. Out of the Box Décor: This splendid DIY project also saves money whilst leaving a high impact on the guests on the auspicious day, adding a personal touch to the décor creates a conversation piece among guests and highlights the couples unique sense of style. Use of calligraphy in your wedding reception will create a memoir for you that can have as a keepsake.
6. Bold Black Inspired Décor: The top colour for 2015 by Pantone is Marsala, but Black will steal some of the limelight this year. Black is not a colour traditionally associated with weddings. Use of black with sharp contrasts will bring the wow factor to your décor. Black Chiavari chairs help add elegance and prestige whilst reducing décor spend as they do not need additional decoration, but if you wish, you can titivate them with a few light coloured ribbons and flowers.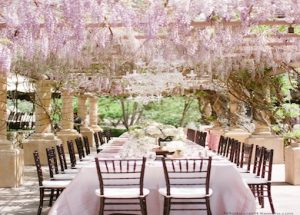 7. Over the Top Floral: Inspired by Kim Kardashian and her extravagant wedding in Florence, over the top floral walls make a stunning back drop for your décor. For limited budgets, why not DIY to add florals using framed florals or floral monograms. Decorating chairs with flowers and use cascading flowers suspended above your tables for a real statement.